Homeowner insurance protects the owner financially from losses and liability.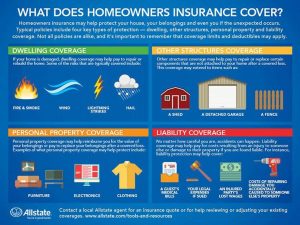 Homeowner's insurance (also known as home insurance) isn't a luxury, it's a necessity. And not just because it protects your home and possessions against damage or theft. Virtually all mortgage companies require borrowers to have insurance coverage for the full or fair value of a property (usually the purchase price) and won't make a loan or finance a residential real estate transaction without proof of it.
Homeowners need insurance because it protects them from costly liability lawsuits, covers them in the event of weather- or fire-related damage to their homes, and pays for losses sustained from theft. When a homeowner owes money on his home, he needs to have insurance to protect both himself and the lender. Homeowners whose homes are completely paid for also carry insurance to protect themselves financially.
Building Coverage
At the minimum, all lenders require the structure of the home to be insured. Policies cover losses from fire and weather, but may not cover a building that is damaged by flood or earthquake. Homeowners can add protection against these hazards to the policy, which will add to the premium. Standard insurance policies cover damage from smoke, fire, hail, wind, vandalism and theft. The building is insured for its value. In a volatile housing market, values can go up or down quickly, and it is the responsibility of the homeowner to make sure that his home is insured for its market value.
Personal Property Coverage
While not required by the lender, personal property coverage is frequently part of a policy. Homeowners need to document their possessions, with receipts, video or photographs, and keep the records in a safe place. Making several paper or DVD copies and distributing them among friends or family who do not live in the house is a good way to safeguard the record of personal property. Most hazard insurance policies will not cover expensive jewelry, art, or musical instruments except as riders to the policy. Before many insurance companies will accept the value of the item, they may require an appraisal of the item by a professional. Some homeowners' insurance policies do not cover business equipment located in the home; just as with jewelry or art, the insurer may require a rider for items that are used in a home office like copiers, faxes and computers.
The Importance of Property Insurance
The basic goal behind buying insurance is to make you financially whole following a loss. You agree to pay a (relatively) small fee to an insurance company today, causing a small but certain loss to you now, in exchange for a guarantee from the insurance company that it will bear the burden of a large but uncertain loss in the future.
Let's say that you have a house that you own, free and clear – with no insurance. As long as you continue to pay your property taxes, you have every right to enjoy the use of that house for as long as you like, as guaranteed by law. You may live there, rent it out, leave it vacant or even sell it if you like. However, if that giant tree in the back yard falls on your house causing severe damage, it is still up to you to cover the cost to repair the house. This is the basic reason to carry property insurance, which would have paid for your property to be fixed or replaced
Homeowner's Insurance
Construction type of dwelling (frame, brick, masonry, EIFS, etc.) and size
Age of dwelling and condition; age or renovation date of systems within structure such as plumbing, electrical, furnace, roof
Location of dwelling/property
Proximity to local fire protection
Presence of safety features (smoke detectors/fire alarm system, security system, sprinklers, etc.)
Previous claims history on the property and owner (loss history database report such as CLUE or A-PLUS)
Probability of certain types of peril (hurricanes, tornadoes, hail, windstorms, for example)
Full-time residence or seasonal; occupied or vacant
Deductibles, coverages and benefit limits selected