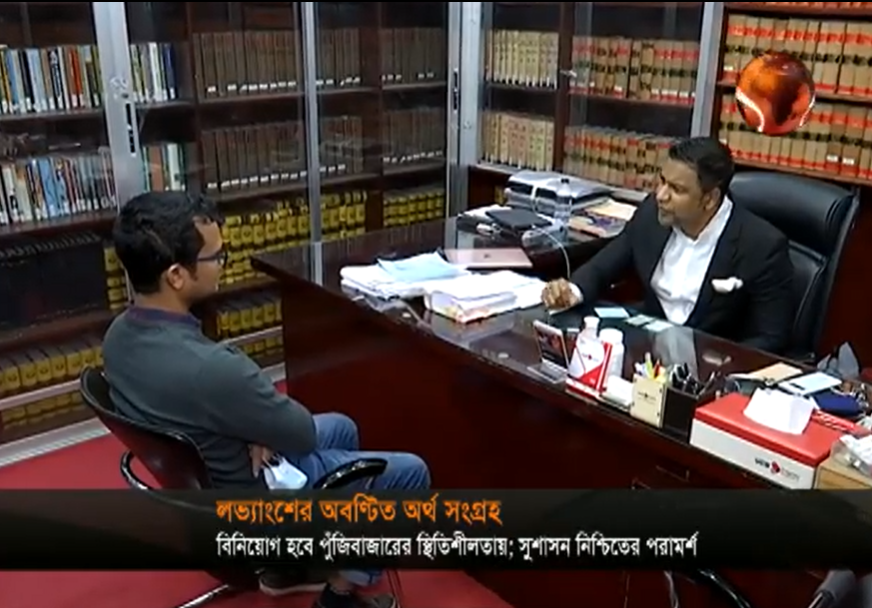 Corporate Law Chamber In Bangladesh
Corporate Law Chamber, "Amalgamation occurs when two or more companies are joint to form a third entity or one is absorbed into or blended with another"— Explain & Illustrate.
Introduction
Amalgamation is to combination of two or more commercial companies. In business, it often refers to the mergers and acquisitions of many smaller companies into much larger ones. In the context of financial accounting, consolidation refers to the aggregation of financial statements of a group company as a consolidated account.
The word 'amalgamation' is defined as "a blending together of two or more undertakings into one undertaking, the shareholders of each blending company, becoming, substantially, the shareholders of the blended undertakings. There may be amalgamations, either by transfer of two or more undertakings to a new company, or to the transfer of one or more companies to an existing company". Thus and this is how the two concepts are, substantially, the same.
Moreover, the term amalgamation is more common when the organizations being merged are private schools or regiments. For example, we can remember in the 1999 merger of Glaxo Wellcome and SmithKline Beecham, both firms ceased to exist when they merged, and a new company, GlaxoSmithKline, was created. This is a great example of occurring an amalgamation between two companies.
Some jurisdictions permit or require combined reporting or combined or consolidated filing of income tax returns. Such returns include income, deductions, and other items of multiple related corporations, and may compute tax as if such multiple entities were a single taxpayer. Most rules require that the corporations combined be commonly owned with only small minority ownership.
Rules for such reports differ widely among jurisdictions.. Some jurisdictions that do not permit combined reporting nonetheless permit intragroup benefit of losses. According to Wikipedia [01], there are four main forms of business combinations are:
Statutory Merger:

a business combination that results in the liquidation of the acquired company's assets and the survival of the purchasing company.

Statutory Consolidation:

a business combination that creates a new company in which none of the previous companies survive.

Stock Acquisition:

a business combination in which the purchasing company acquires the majority, more than 50%, of the Common stock of the acquired company and both companies survive.

Amalgamation:

Means an existing Company which is taken over by another existing company. In such course of amalgamation, the consideration may be paid in "cash" or in "kind", and the purchasing company survives in this process.
Footnotes:
[01] Retrieved on 25th March, Friday 2011 from the web site Wikipedia, Free Encyclopedia:
http://en.wikipedia.org/wiki/Amalgamation_%28business%29 and
http://en.wikipedia.org/wiki/Amalgamation
The Reason of Occurring an Amalgamation
Without any reason, amalgamation cannot be done. It has to be some internal problem or relation between the companies which are going to be merging later. Otherwise no party willingly wishes for the consolidation.
According to the author Pritchett, P's book "After the Merger: Managing the shock waves" [02], There are four main reasons for consolidating:
Losses in one Group Company reduce profits in other group companies.
Assets can be transferred between group companies without triggering tax on any gain.
Dividends can be paid between group companies without tax liabilities arising.
Tax attributes (for example imputation credits) of one Group Company can be used by other group companies.
The entire merger process is usually kept secret from the general public, and often from the majority of the employees at the involved companies. Since the majority of merger attempts do not succeed, and most are kept secret, it is difficult to estimate how many potential mergers occur in a given year. It is likely that the number is very high, however, given the amount of successful mergers and the desirability of mergers for many companies.
Consolidation is usually an all or nothing event – once the decision to consolidate has been made, companies are irrevocably bound, and only by having a less than 100% interest in a subsidiary, can it be left out of the consolidation.
Synergy is the main reason of companies merge sometimes. According to author, "This synergy, or revenue enhancement, along with cost savings can be found in various areas of business. Synergy can come in the form of staff reductions as the merger of two companies creates overlap in some positions.
The newly merged company would be producing more products and reaching more clientele with a reduction in staff. The economy of scale also provides synergy. The economy of scale refers to the benefits that ordering in bulk provides as the size increase that goes along with mergers provides better buying power for the newer, larger entity. This buying power can be utilized when buying office supplies as well as equipment." Marks, M. L., & Mirvis, P. H. (1997). Revisiting the merger syndrome: Dealing with stress. Mergers and Acquisitions, 31(6), pp. 1-10] [03]
A merger or amalgamation also occurs when two companies combine to form a single company.
A merger is very similar to an acquisition or takeover, except that in the case of a merger existing stockholders of both companies involved retain a shared interest in the new corporation. By contrast, in an acquisition one company purchases a bulk of a second company's stock, creating an uneven balance of ownership in the new combined company.
One use of the merger, for example, is to combine a very profitable company with a losing company in order to use the losses as a tax off to offset the profits, while expanding the corporation as a whole. Increasing one's market share is another major use of the merger, particularly amongst large corporation By merging with major competitors, a company can come to dominate the market they compete in, giving them a freer hand with regard to pricing and buyer incentives. This form of merger may cause problems when two dominating companies merge, as it may trigger litigation regarding monopoly laws.
Moreover, the cuts to the bureaucracy may not achieve the economies of scale that believers in amalgamation propagate.
Countries which do not permit tax consolidation often have rules which provide some of the benefits. For example, the United Kingdom [04] has a system of group relief, which permits profits of one Group Company to be reduced by losses of another group company.
Footnotes:
[02] Pritchett, P. (1985). After the merger: Managing the shock waves. Homewood, IL: Dow Jones- Irwin.
[03] Marks, M. L., & Mirvis, P. H. (1997). Revisiting the merger syndrome: Dealing with stress. Mergers and Acquisitions, 31(6), pp. 1-10. Retrieved March 28, 2001 from InfoTrac Basic/Business Index/A19603002 on the World Wide Web
[04] Retrieved on 25th March, Friday 2011 from the web site Wikipedia, Free Encyclopedia http://en.wikipedia.org/wiki/Tax_consolidation
Amalgamation Types and Motivations
There are a variety of relationships between the companies involved in mergers. The following explains what these relationships are and how they affect the merger. Conceding to the author McManus, M. L., (McManus, M. L., Surviving merger & acquisition, 1998) [05] there are two main types of amalgamation or merger… They are:
Ø     Horizontal Amalgamation or Merger
Ø     Vertical Amalgamation or Mergers
There are two more amalgamation types but they are not main in occurring amalgamation. They are;
Ø     Market-extension Amalgamation or Merger
Ø     Product-extension Amalgamation or Merger
Horizontal Amalgamation: Horizontal merger is when two companies competing in the same market merge or join together. This type of merger can either have a very large effect or little to no effect on the market. When two extremely small companies combine, or horizontally merge, the results of the merger are less noticeable. Large horizontal mergers are often perceived as anticompetitive. If one company holding twenty percent of the market share combines with another company also holding twenty percent of the market share, their combined share holding will then increase to forty percent. This large horizontal merger has now given the new company an unfair market advantage over its competitors. This merger involves the combining of two companies that are in direct competition with one another. In other words, they are trying to sell the same product to customers who are in a common market.
Vertical Amalgamation: A vertical merger is one in which a firm or company combines with a supplier or distributor. If a contractor has been receiving a material from two separate firms, and then decides to acquire the two supplying firms, the vertical merger could cause the contractor's competitors to go out of business. Antitrust concerns are a focal point of investigation if competition is hurt. The Federal Trade Commission can rule to prevent mergers if they feel they violate antitrust laws. This type of merger involves a customer and a company or a supplier and a company merging. Imagine a baseball bat company merging with a wood production company. This would be an example of the supplier merging with the producer and is the essence of vertical mergers.
Market-extension Amalgamation:

This involves the combination of two companies that sell the same products in different markets.
Product-extension Merger: This merger is between two companies that sell different, but somewhat related products, in a common market. This allows the new, larger company to pool their products and sell them with greater success to the already common market that the two separate companies shared.
Footnotes:
[05] Collected from, McManus, M. L., & Hergert, M. L. (1988). Surviving merger and acquisition. Glenview, IL: Scott Foresman.
Advantages & Disadvantages of Amalgamation
The desired outcome of structural reform is a strong sustainable local government. There are some advantages and disadvantages of amalgamation according to the Shire of Mundaring's Handout 01: Mergers and Acquisitions, 31(6), pp. 1-10 [06].
Advantages
Increased capacity for local government to better plan, manage and deliver services to their communities with a focus on social, environmental and economic sustainability;
Increased capacity for local government to have adequate financial and asset management plans in place;
Enhanced efficiency in the processing of planning, building and other licence applications made by business and the community;
Greater ability to attract and retain staff including the provision of further career development opportunities;
Greater competition for positions on council and, in conjunction with other reforms, potential for enhanced governance capacity; and
Larger local governments with greater capacity to partner with State and Federal Government, and the private sector, to further improve services to communities.
Disadvantages
Potential loss of local identity: if amalgamation occurs communities of interest may be significantly different
Loss of representation: fewer councillors suggest that it could be more difficult for community members to know or obtain access to elected members
Significant cost increase: the cost of reform when amalgamations occur can be significant and would include locating suitable sites and accommodating a larger workforce in new or upgraded central facilities
Rationalization of major systems such as information technology systems, town planning schemes, human resource management practices, staff redundancies for example.
Footnotes:
[06] Retrieved and collected on March, 27th 211, from the Shire of Mundaring, handout 1 & Marks, M. L., & Mirvis, P. H. (1997). Revisiting the merger syndrome: Dealing with stress. Mergers and Acquisitions, 31(6), pp. 1-10. from InfoTrac Basic/Business Index/A19603002 on the World Wide Web
Conclusion
In a merger, two firms of about the same size, agree to establish a single new entity with the goal of floating a company that is worth more than the sum of its parts. Both companies' stocks are surrendered and instead new company stock is issued in its place. In today's competitive world, for any company, it is becoming harder to achieve leadership position and stay on top.
Hence, companies tend to focus on inorganic (external) growth rather than organic growth when it decides to expand its existing operations quickly. There are several ways by which companies can combine their efforts. They can partner a project, mutually agree to join forces and merge, or one company can completely acquire another company, taking over all its operations, including its holdings and debt, and at times replacing management with their own representatives. Mergers occur when two or more firms combine operations to set up a firm, with a new name.
The major goal of a merger is to achieve management synergy by creating a stronger management team. Amalgamation or Mergers have been a part of the business world for centuries. In today's dynamic economic environment, through mergers and acquisitions, a company aims to corner a competitive advantage and ultimately increase shareholder value. The key principle behind buying a company is to improve shareholder value over and above that of the sum of the two companies in the long-term.
————————
Bibliography
Astrachan, J. H. (1990). Mergers, acquisitions, and employee anxiety: A study of separation anxiety in a Corporate Law Chamber context. New York: Praeger.
Buono, A. F., & Bowditch, J. L. (1989). The human side of mergers and acquisitions: Managing collisions between people and organizations. San Francisco: Jossey-Bass.
Jemison, D. B., & Sitkin, S. B. (1996). Corporate Law Chamber acquisitions: A process perspective. Academy of Management Review, 11 (1), 145-163.
Marks, M. L., & Mirvis, P. H. (1986). The merger syndrome and type of merger. Psychology Today, 20 (2), 36-42.
Marks, M. L., & Mirvis, P. H. (1997). Revisiting the merger syndrome: Dealing with stress. Mergers and Acquisitions, 31(6), pp. 1-10. Retrieved March 28, 2011 from InfoTrac Basic/Business Index/A19603002 on the World Wide Web
McManus, M. L., & Hergert, M. L. (1988). Surviving merger and acquisition. Glenview, IL: Scott Foresman.
Merriam, S. B. (1998). Qualitative research and case study applications in education. San Francisco, CA: Jossey-Bass.
Pritchett, P. (1985). After the merger: Managing the shock waves. Homewood, IL: Dow Jones- Irwin.
Correspondence
M.L.Hotel Tower Ltd,208,Shahid Syed Nazrul Islam Sarani,
Bijoy Nagar, Dhaka-1000.
Email-admin@lawyersnjurists.com/nomaer@hotmail.com
www.lawyersnjurists.com
Country code+ Ph No.
Ph:0088-02-9571389; 0088-02-9513408,
0088-02-9564329, 0088-02-9564398
Direct cell with country code:
Corporate Law Chamber
Local Code : Corporate Law Chamber
a)0088-01733689444
b)0088-01674647033
C)0088-01552632768