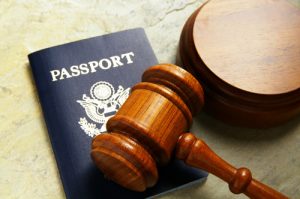 What is International Migration Law?
International migration law (IML), which is the international legal framework governing migration, is not covered by any one legal instrument or norm. Instead, IML is an umbrella term covering a variety of principles and rules that together regulate the international obligations of States with regard to migrants. Such broad range of principles and rules belong to numerous branches of international law such as human rights law, humanitarian law, labour law, refugee law, consular law and maritime law. IOM works to increase knowledge and acceptance of the legal instruments that protect migrants' rights, as well as the ratification and implementation status of these instruments. It also assists States in developing migration policies and legislation that conform to IML in order to manage migration more effectively and in a manner consistent with international law.
In order to more effectively carry out its work on IML, IOM has established the International Migration Law Unit.
Since there is no single instrument or norm covering all the relevant rights and duties of migrants, it is important to collect information on IML and frame it in an accessible and comprehensible way. IOM seeks to consolidate IML information and make it more easily accessible through legal research and its online migration law database. IOM also works to disseminate information on IML in order to spread awareness to academics, government policy makers, International Organizations (IOs) and Non-Governmental Organizations (NGOs).
The IML Unit consults with governments on migration legislation to make the legislation more effective and to bring it more in line with regional and international standards. The Unit also carries out training and capacity building activities on IML.
The Migration Act was enacted in 1958. The purpose of the Act is to regulate in the national interest the travel to, entry and stay in Australia of people who are not Australian citizens. The Act provides for a visa system to regulate this including the removal and deportation of people from Australia. The Act contains the broad structure and framework for controlling Australian immigration – however it does not always give precise rules. In areas where the government may want to change the rules often or quickly, the Act may simply state that these rules can be covered in or prescribed by the Migration Regulations.
The Act has been substantially amended since it was first enacted in 1958. In 1989 the Act was amended to allow for codification of all types of visas. In 1994 a further major amendment known as the Migration Reform Act came into force. This amendment to the Migration Act was passed in 1992 but its operation was suspended until 1 September 1994. The amendments further codified Australia's immigration processes.
The Migration Reform Regulations translate entitlements under the previous act and regulations to entitlements under the law as it is after 1 September 1994. They should be used to determine the status of people who has a visa, entry visa or entry permit or who had lodged an application for a visa, entry visa, entry permit or who had lodged an application for a visa, entry visa, entry permit or who sought review of decision before 1 September 1994. All entry permits that were valid on 1 September 1994 were automatically translated to visa, which has the same conditions as those on the entry permit. All visa and review applicants who where in Australian but not in immigration detention on 1 September 1994 were automatically granted a bridging visa to keep them lawful while waiting for a decision to be made on their application. Other amendments to the migration regulations may have specific transitional provisions.
The regulations contain most the specific rules for immigration, such as the criteria for visa eligibility. The current regulations came into force on 1 September 1994 and have been amended many times since that date. Generally there have been three main rounds of major regulatory change throughout the year. However, changes can be made at any time. Section 504 of the act allows for regulations to be made on a variety of matters. The act does not refer to specific regulations. Instead, a section of the act Act will refer to matters 'prescribed'. The term 'prescribed' is defined as ' prescribed in the regulations.
IOM's Objectives
IOM is dedicated to promoting awareness and understanding of IML in order to assist States in managing migration more effectively and humanely. IOM's efforts on this behalf include:
Training. Done on a regular basis and on request. The IML Unit has committed itself to informing individuals and governments on IML. The Unit conducts two annual training courses, one in Sanremo, Italy in collaboration with the International Institute of Humanitarian Law (IIHL) and the other in New York in collaboration with the United Nations Institute for Training and Research (UNITAR), with additional training seminars available at the regional or country level upon request. Training seminars cover, inter alia, human rights and migration, transnational criminal law, the rights of migrant detainees and international rules on detention, protection of groups at risk, international refugee law, and international labour law and the protection of non-nationals.
Direct Assistance to States and to Human Rights Mechanisms.

Since 1998, IOM has been part of the Steering Committee for the Promotion of the Ratification of the UN Migrant Workers Convention, along with the Office of the High Commissioner for Human Rights (OHCHR), International Labour Organization (ILO), United Nations Educational, Scientific and Cultural Organization (UNESCO) and a number of NGOs working on migration issues. In order to promote this treaty and other important IML instruments, IOM regularly collaborates with the Human Rights Treaty Monitoring Bodies, especially the Committee on Migrant Workers (CMW) and the Committee on the Elimination of Discrimination against Women (CEDAW), and the Special Procedures of the Human Rights Council. In particular, it works closely with the UN Special Rapporteur on the human rights of migrants. IOM also advises the European Court of Human Rights and the Inter-American Court of Human Rightsand the Human Rights Council.
At the request of States and other stakeholders, IOM analyzes national migration legislation, advises and consults governments on reform and improves and develops effective legislative frameworks for migration management. At a government's request, IOM analyzes specific legislative acts relating to migration or migration management mechanisms. In 2011, IOM provided support in the development of legislation and policies conforming to international standards to Colombia, Timor-Leste, Malaysia and the Bolivarian Republic of Venezuela.
Principal Beneficiaries
Participants in IOM's training programme include government officials and members of IOs and NGOs.
In 2011, some 780 participants from over 60 countries, including government officials, staff from IOs and NGOs and members of academia, were trained in elements of IML. This includes 55 participants in Sanremo, 25 participants in New York and the others at the State-level, including at training sessions in Afghanistan, Ethiopia and Poland. Since 2005, 124 States have sent at least one participant to the Sanremo training.