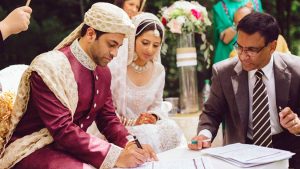 Muslim marriage and Islamic wedding customs are traditions and practices that relate to wedding ceremonies and marriage rituals prevailing within the Muslim world.
Muslim marriage and Islamic wedding customs are traditions and practices that relate to wedding ceremonies and marriage rituals prevailing within the Muslim world. Although Islamic marriage customs and relations vary depending on country of origin and government regulations, both Muslim men and women from around the world are guided by Islamic laws and practices specified in the Quran.
According to the teachings of the Quran, a married Muslim couple is equated with clothing. Within this context, both husband and wife are each other's protector and comforter, just as real garments "show and conceal" the body of human beings. Thus, they are meant "for one another".The Quran continues to discuss the matter of marriage and states, "And among His Signs is this, that he created for you mates from among yourselves, that you may dwell in tranquility with them, and He has put love and mercy between your [hearts]…". Marriages within the Muslim community are incredibly important. The purpose of marriage in Islamic culture is to preserve the religion through the creation of a family. The family is meant to be "productive and constructive, helping and encouraging one another to be good and righteous, and competing with one another in good works".
Marriage in Islam is a contract and every Muslim of sound mind who has attained puberty may enter into a contract of marriage. Puberty is presumed, in the absence of evidence, when one reaches the age of 15 years, but this presumption is rebutable.Until the age of puberty, a minor may be given in marriage by his or her guardian and though this is in fact against the provisions of the Child Marriage Restraint Act, such a marriage even under that Act would not be void. Under the Sharia Hanafi, a girl given in marriage below the age of puberty can repudiate that marriage after she attained it and up to the age of 18 provided the marriage was not consummated. By statute puberty is no longer relevant and girl given in marriage below the age of 16 can repudiate the marriage either on the attaining of 16 years, or puberty, where she was married before puberty. Since according to the Sharia a girl is free from guardianship at puberty and by the time she is 13 this is assumed, the law presents another anomaly in that a girl can give herself in marriage if she wishes below the age of 16, if she has attained puberty and the marriage would be valid though the person officiating and the groom himself where he was over 18 would be liable for punishment under the Child Marriage Restraint Act. Registration of Muslim Marriage under section 3 of the Muslim Marriages and Divorces (Registration) Act, 1974, "Notwithstanding anything contained in any law, custom or usage, every marriage solemnized under Muslim Law shall be registered in accordance with the provisions of this Act." That meams registration is mendatory. Non-registration of Muslim marriage is punishable, but marriage is not void or void able due to non-registration in any law.
Though a minor may be given in marriage, no minor may contract herself in marriage during her minority and any such marriage would be held to be void (9D.L.R.1957 p.45) Where a minor has been given in marriage and marriage has been consummated before puberty such consummation does not operate to deprive the minor of the option to repudiate after puberty (9 D.L.R.1957 p.45) However there appears no provision for explaining or informing the minor of this right either at the time of her marriage or when she attains puberty. It would further appear that even in cases where a girl was given in marriage before puberty, she attained puberty or say the age of 14 1/2 years and subsequently the marriage was consummated, she should have the right under statute to repudiate the marriage after she was 16 provided there were no further acts of consummation between the period of her 16th or 18th years.(8 D.L.R.1956 p.77)
A Muslim male can contract valid marriage with a Muslim as also with a Ketabi (Jew or Christian). But his marriage with an idolatress will be irregular. On the other hand, A Muslim woman may not contract a valid marriage with any one else but a Muslim. A marriage with a Christian or a Jew would be irregular while a marriage with a Hindu would be invalid (that is any children born would be illegitimate). It simply means that while a man may marry someone who is not his "social equal" a woman should be protected against such marriages.
A Muslim male can take four wives at a time, but a Muslim woman cannot take more than one husband. Even a male marries having already four wives; the fifth marriage is not void, but only irregular. Though Islamic Law vastly improved the then status of woman, the idea of woman being a property could not be altogether thrown away as can be found from the permissibility of plurality of wives. However, realizing the evil effects of and the injustice inherent in the polygamy of men Muslim Family Laws Ordinance, 1961 (Ordinance No.VIII of 1961 Vide Pakistan Code 1966 Vol.XIV, P.67) was passed. Sec.6 of the Ordinance provides that no man, during the subsistence of existing marriage, shall contract another marriage without prior written permission of Arbitration Council and violation of this provision entails liability of conviction and punishment. The Arbitration Council while dealing with an application for permission to marry during the subsistence of a marriage would consider whether the existing wife consents to such marriage and whether it is necessary and just to grant the permission. But this legislation failed to produce the desired result because due to protracted procedure in courts few inclined to bring violations to court and because the Arbitration Council being manned by males very often were not un-willing to accord permission on the slightest pretexts. The law did not make adequate provision to control the discretion of the Arbitration council.
By Bengal Act No.1 of 1876 (Vide East Pakistan Code, 1963 Vol. 11. p.71) provision was made for registration of Muslim marriages, but registration under this Act was optional. Muslim Family Laws Ordinance 1961 made the registration compulsory and enjoined the Kazi (who solemnizes marriage) on pain of punishment to report solemnization of marriage to marriage registrar so that the marriage may be registered. Similar provisions have been made by Muslim Marriages and Divorces Act, 1974. One of the essential part of Muslim marriage is "dower" paid or promised to be paid by the husband to the wife. Dower must not, however be confused with "dowry" which consists of presents made by father and other relations of the bride and Muslim Law does not make any provision for payment of dowry.
Dower is the sum of money or other property which the wife is entitled to receive from the husband in consideration of marriage. The amount of dower may be fixed either before or at the time of marriage of after marriage. The law does not say anything about the quantum of dower. The amount of dower is generally split into two parts- "prompt dower" which is payable immediately on demand by the wife and "deferred dower" which is payable only on dissolution of marriage by death or divorce.
Muslim personal law has been taken initiative to abolish intervening marriage. Muslim Family Law Ordinance, 1961 comprises provision to abolish intervening marriage. As per section 7(6) of the Ordinance, it has been provided that nothing shall debar a wife whose marriage has been terminated by talak from remarrying the same husband, without an intervening marriage with a third person up to tree times and after which the dissolution become irrevocable.
In our social context, rights of the brides are violated, forced consent are usually practiced. Child marriage is often solemnized which leads to offence, including even death. Intervening marriage often solemnizing in rural area which is violation of human rights, why it should after thee times effective divorce. In my point of view, child marriage should properly restraint. Birth registration has been completed in our country; a column should be added with "Form-E" for "Birth Registration Number" of brides under Muslim Marriages and Divorce Rules, 1975. It can reduce Child marriage.