The model of transportation as we know it today is poised to make a transformation. This transformation is projected to happen in the next seven to ten years. This transformation will be a complete overhaul of our current understanding of how people and goods transported from one locale to another. The existing model of transportation has become outdated and is extremely inefficient. What we currently term as "transportation" is evolving into what will be known as mobility. The concept of mobility brings with it a whole new concept of how people and goods are going to moved more efficiently. Sustainability will be the major benefit of this shift in the way we view this model of mobility. This new model shaped by user demand and public policy is responsive to the user. The way policymakers are responding to this new model of mobility is the focus of this paper. Policy Strategies that Create tax incentives to consumers that in effect help manufacturers get their products to market. There is cutting edge technology that is essential for the transformation. How policymakers are responding to the challenges that this technology will bring is also another focus of this paper. Another element that will be crucial for this mobility concept to develop will be the infrastructure needed for a totally connected system of integrated, intelligent transportation systems. How policy makers make the essential infrastructure upgrades will be dependent on funding. What are the possible sources of this funding?
Our current transportation model references only the mode of movement. Examples are cars, trucks, commuter trains and buses. The actual act of movement of transporting people or goods from one place to another. The current transportation model is inefficiencient. Inefficiencies include longer commuting times due to traffic congestion and parking difficulties. Public transportation inadequacies. Use difficulties for non-motorized transportation options. The inefficient use and loss of public space. Extremely high maintenance costs. Huge environmental impacts i.e. poor air quality and noise pollution, non-renewable energy consumption. Accidents and safety, heavy land use consumption, problematic logistics for urban freight distribution. Briefly. If looked at from a purely economic standpoint, "in 2013 traffic congestion cost Americans $124 billion in direct and indirect losses, this number will rise to $186 billion in 2030." (Robert Mendelsohn, 2007) Poor air quality initially "regulated by the Clean Air Act is still causing substantial damage here in the United States. Specifically, ammonia and the five criteria pollutants – fine and coarse particulates, sulfur dioxide, nitrogen dioxide, and volatile organic compounds. These contaminants come from the use of fossil fuels; these contaminants cause damages that range from $75 – $280 billion annually." (Robert Mendelsohn, 2007) Then there is the issue of noise pollution. This contaminant directly affects the quality of life in a community.
How will this new concept of mobility reduce or eliminate these negative externalities produced by the current transportation model? Let's start by defining what is meant by mobility. Mobility will be a consumer or a user-centered concept. See Illustration 1. Mobility will be a reference to the connectivity and the accessibility of how we transport. "A system of interconnected vehicles such as hybrid electric vehicles (HEVs), plug-in electric vehicles (PHEVs), battery electric vehicles (BEVs), fuel cell vehicles (FCEVs) or compressed natural gas vehicles (CNG). These vehicles will have technology that will bring new applications of information technology that will facilitate vehicle to vehicle and vehicle to network communications. The network of connectivity will result in a seamless transportation system. Another element of this new concept of mobility will be fuels. What fuel technology preferred over others. Vehicles connected through a yet to be built infrastructure. Infrastructure refers to the fundamental facilities and systems serving a country, city or area, including the services and facilities necessary for its economy to function. In this sense, it means the physical components of the interrelated systems that are providing the commodities and services that are essential to enabling, sustaining or enhancing the standard of societal living. An infrastructure upgrade, in turn, will create opportunities for consumers to choose between the modalities that will emerge as our system of mobility begins to form. Modalities such as car sharing, car-hailing, ride sharing, modern jitneys, vehicle autonomy and bike sharing." (MIT Energy Initiative, 2016) A connected system of transport will eliminate waste. Eliminate congestion and the wasted hours of nonproductivity. When vehicles communicate with one another, there will be an increase in safety and a reduction in car crashes. Autonomous vehicles will eliminate the need for large amounts of land use devoted to parking and storage of vehicles. Vehicle to network and vehicle to vehicle communication can monitor traffic conditions real time, and alternate routes can be suggested to the user if road capacity is reached. If a road hazard develops vehicle to network communication will alert the network so the appropriate personnel can be dispatched to rectify the problem. Mobility recognizes that transportation products and services must be responsive to the needs, habits, and preferences of consumers. Consumers will shape how these elements of mobility are deployed. Just as important as consumer choice will be public policy.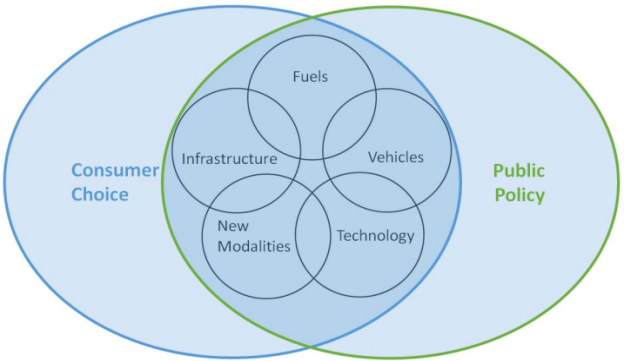 Figure 1 (MIT Energy Initiative, 2016)
On the other side of the model with just as much influence on the elements of new modalities, technology, vehicles, fuels, and infrastructure is public policy. Federal, State and local governments have implemented a wide range of policies in recent decades to reduce transportation-related fuel consumption. Policies that set emissions standards to address air quality. Policies that attempt to manage traffic congestion. Now we need policies that will address the challenges that mobility will create. All these policies, and more fall into three major categories: price-based policy, regulatory policy, and policy promoting research and development.
The price-based policy is a market-based instrument that uses the market and price to provide incentives to reduce or eliminate negative externalities. In this case, policies that will continue to incentivize the use of alternative vehicle propulsion units and renewable energies.
Regulatory policy instruments also called "command-and-control"; public policy can mandate the specific performance to be achieved. As in the case of emission standards and CAFÉ standards. Regulatory policy can also be used to command and control the technologies to be used.
The policy promoting research and development. There are a number of tools that exist currently to do this. These tools include direct funding of government research facilities, grants to university researchers or private-sector researchers, government contracts for specific projects, and tax incentives. However, each of the categories will require decisions to be made about how to structure the specific program.
The Federal government has enacted price-based policies and legislations that promote the U.S. market for electric drive vehicles. A new effort has been proposed to support advanced technology vehicle adoption through improvements to tax credits in current law. The Federal government has made significant investments in research and development and competitive programs to encourage communities to invest in the infrastructure supporting these vehicles. Charging stations, busses, street design, light rail, shared ride ordinances giving preferential treatment to shared ride vehicles. Some of the Federal policies that encourage consumers to purchase electric drive vehicles include The Federal Purchase Incentive. Battery electric vehicles and Hybrid electric vehicles purchased in or after 2010 are eligible for a federal income tax credit of up to $7,500.00. The credit varies based the battery used to power the vehicle. Based on (kwh), this credit will begin to phase out to 50% of the full credit amount once the manufacturer has reached 200,000 plug-in electric vehicles (PHEVs), battery electric vehicles (BEVs) sold. The Fixing America's Surface Transportation (FAST) Act incentive expired December 31, 2016, but will remain posted until the federal tax filing deadline. reauthorized the tax credit for EV charging supply equipment until 12/31/16. If the charging station is considered personal property, the tax credit is the smaller of 30% of the station's cost or $1k; if the charging station is considered business property, the credit is worth the smaller of 30% of the station's cost or $30k.
Here in Michigan, there are state policy initiatives that are promoting the use of alternative fuel vehicles that will accommodate the transition to mobility. The Vehicle Inspection Exemption: alternative fuel vehicles are exempt from emissions inspection requirements. The Electric Vehicle Supply Equipment Rebate: Indiana Michigan Power provides rebates of up to $2,500 to residential customers who purchase or lease a new plug-in electric vehicle and install Level 2 electric vehicle supply equipment with a separate meter. Customers must also sign up for the Indiana Michigan Power plug-in electric vehicle time-of-use rate. The rebate is available to the first 250 qualified customers who submit a completed application. Consumers Energy provides qualified customers with a reimbursement of up to $2,500 to cover the purchase, installation, and wiring for qualified Level 2 electric vehicle supply equipment. Plug-In Electric Vehicle Charging Rate Reduction: Indiana Michigan Power, Consumers Energy, and DTE Energy offer a special time-of-use rate option to residential customers who own a qualified PEV.
Interestingly, the history of battery powered vehicles. In the late 19th and early 20th century, electric vehicles (EVs) rivaled steam- and internal-combustion-powered cars for outright sales. In fact, in the very early 1900s, more EVs were sold in the US than any other vehicle. They were quiet, did not require drivers to toil with a hand-crank, clutch or gearstick, and limited driving ranges mattered little because they were typically used for short journeys in urban areas. With the advent of widespread oil exploration, the introduction of the electric starter motor and Henry Ford's mass-production techniques, internal-combustion cars became cheaper to buy and run, more practical too. As a result, electric mobility spent much of the 20th century consigned to history or the golf course. But during the last seven years' electric cars have enjoyed a renaissance, as improved battery technology, the need to reduce vehicle emissions and government incentives combine. The Nissan Leaf, Tesla Model S and Renault Zoe have all appeared during this period. Mercedes and Volkswagen were among the manufacturers that announced all-new commitments to the segment at last September's Paris Motor Show.
Policy makers will be guided by the need to craft policies that are consistent with larger public goals of clean air, reducing congestion, promoting sustainability, improving livability, promoting the use of renewable energy and noise reduction. With these goals as a guiding force mobility can address each of these issues and virtually eliminate some.
The path to developing mobility will be local policy that is focused on livability and sustainability. This focus could result in an acceleration of vehicle electrification technology that will be further enforced by National and global emission standards. Budgets are always the chief concern of local and State governments. State and local governments are doing more with less. An idea may be to create a framework for private entrepreneurs to lead the way constructing the infrastructure that will be necessary for the connection of the mobility system. A network of connected vehicles. "We can spend billions on new roads, bridges and light rail to move people and goods. Or, we can make a much smaller investment in the communications technology that allows more vehicles to operate intelligently on current streets and highways. Smart cities of the future will be those that embrace and integrate intelligent transportation systems. Driverless cars may be a long way off; vehicle connectivity is not." (King, 2014)
(SUMC), S.-U. M. (MARCH 2016). SHARED MOBILITY AND THE TRANSFORMATION OF PUBLIC TRANSIT RESEARCH ANALYSIS. Chicago, IL: Transit Cooperative Research Program, Transportation Research Board, National Research Council, The National Academies.
ABRAHAM, J. (FEBRUARY 4TH, 2016). CITY OF DETROIT FROM "MOTOR CITY" TO "MOBILITY CITY". Detroit, MI.
Adela Spulber, E. P. (August 2016). The Impact of New Mobility Services on the Automotive Industry. Ann Arbor, Michigan: Center For Automotive Research.
Artificial Intelligence, Automation, and the Economy. (December 20, 2016). (p. 55). WASHINGTON, D.C: EXECUTIVE OFFICE OF THE PRESIDENT.
Barry, B. (2016, Q4). Leading The Charge. International Journal Of The FIA, Auto, pp. 46-51.
Bloomberg New Energy Finance. (October 2016). AN INTEGRATED PERSPECTIVE ON THE FUTURE OF MOBILITY. McKinsey & Company.
Board, T. R. (2015). Between Public and Private Mobility Examining the Rise of Technology-Enabled Transportation Services. Washington D.C.: Committee for Review of Innovative Urban Mobility Services.
Daniel Morchain, S. F. (January 2011). Strategising sustainable urban mobility in EU Neighbour Countries.
Guerrini, F. (2014). Traffic Congestion Costs Americans $124 Billion A Year. Forbes.
ITDP. (August 2015). Harnessing Shared Mobility for Compact, Sustainable Cities.
Jeremiah Owyang, C. T. (2013). The Collaborative Economy. Altimeter Group.
MIT Energy Initiative. (2016). Mobility of the Future Examining future changes in the transportation sector. Boston: Massachusetts Institute of Technology.
Peter Viechnicki, A. K. (2015). Smart mobility Reducing congestion and fostering faster, greener, and cheaper transportation options. Deloitte University Press.
Robert Mendelsohn, N. Z. (2007). What do the Damages Caused by U.S. Air Pollution Cost? Washington, DC: Resources for the Future.
Scott Corwin, J. V. (2014). The future of mobility, How transportation technology and social trends are creating a new business ecosystem. Deloitte University Press.
Sharon Feigon, C. M. (June 2016 ). Shared Mobility and the Transformation of Public Transit. Washington D.C.: National Academy of Sciences.
VANHULL, L. (2016). Michigan races to stay in the driver's seat on autonomous vehicle legislation. Crain's Detroit Business.