Corporate governance is the collection of mechanisms, processes and relations by which corporations are controlled and operated. Governance structures and principles identify the distribution of rights and responsibilities among different participants in the corporation (such as the board of directors, managers, shareholders, creditors, auditors, regulators, and other stakeholders) and include the rules and procedures for making decisions in corporate affairs. Corporate governance is necessary because of the possibility of conflicts of interests between stakeholders,primarily between shareholders and upper management or among shareholders.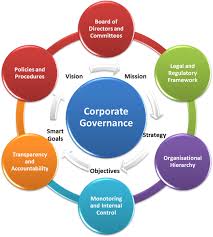 Corporate governance includes the processes through which corporations' objectives are set and pursued in the context of the social, regulatory and market environment. These include monitoring the actions, policies, practices, and decisions of corporations, their agents, and affected stakeholders. Corporate governance practices can be seen as attempts to align the interests of stakeholders.
Interest in the corporate governance practices of modern corporations, particularly in relation to accountability, increased following the high-profile collapses of a number of large corporations in 2001–2002, many of which involved accounting fraud; and then again after the recent financial crisis in 2008.
Corporate scandals of various forms have maintained public and political interest in the regulation of corporate governance. In the U.S., these include scandals surrounding Enron and MCI Inc. (formerly WorldCom). Their demise led to the enactment of the Sarbanes–Oxley Act in 2002, a U.S. federal law intended to improve corporate governance in the United States. Comparable failures in Australia (HIH, One.Tel) are associated with the eventual passage of the CLERP 9 reforms there, that similarly aimed to improve corporate governance. Similar corporate failures in other countries stimulated increased regulatory interest (e.g., Parmalat in Italy).
Corporate governance is a set of rules that define the relationship between stakeholders, management, and board of directors of a company and influence how that company is operating. At its most basic level, corporate governance deals with issues that result from the separation of ownership and control. But corporate governance goes beyond simply establishing a clear relationship between shareholders and managers.
The presence of strong governance standards provides better access to capital and aids economic growth. Corporate governance also has broader social and institutional dimensions. Properly designed rules of governance should focus on implementing the values of fairness, transparency, accountability, and responsibility to both shareholders and stakeholders. In order to be effectively and ethically governed, businesses need not only good internal governance, but also must operate in a sound institutional environment. Therefore, elements such as secure private property rights, functioning judiciary, and free press are necessary to translate corporate governance laws and regulations into on-the-ground practice.
Good corporate governance ensures that the business environment is fair and transparent and that companies can be held accountable for their actions. Conversely, weak corporate governance leads to waste, mismanagement, and corruption. It is also important to remember that although corporate governance has emerged as a way to manage modern joint stock corporations it is equally significant in state-owned enterprises, cooperatives, and family businesses. Regardless of the type of venture, only good governance can deliver sustainable good business performance.