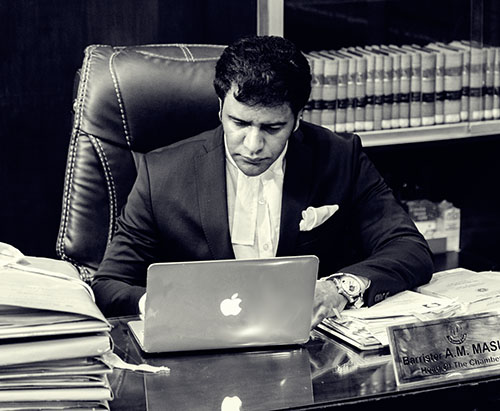 LL.B (Hons.)(UNL, UK) B.B.A( IUB)
LL.M (University College London).
B.V.C (ICSL,UK), PGDL (CU,UK)
Barrister-at-Law (Lincoln's Inn, UK)
Diploma in Int. Com. Arb. (CIArb-Oxford)
International Arbitrator (Fellow of CIArb)
About Barrister A. M Masum
Advocate A.M. Masum is a highly reputed practicing lawyer. He is acknowledged as a well- achiever and famous face due to his ardent self devotion and vast experience in the legal arena of the country. Mr. Masum is a very brave lawyer. He believes that one of the best perks of being a lawyer is the flexibility it affords, in many different areas.
He is the Head of the Chamber of the esteemed Law Firm "The Lawyers & Jurists" Is one of the best leading law firms in Dhaka, Bangladesh that renders its service to various national and international organizations and also the Editor of The Lawyers & Jurists (A Monthly Law Journal). His team is emphatically committed to the absolute and complete discharge of the legal professional, ethical and aggressive legal representation in and out of the courtroom with worth and excellence and thereby spurs on the growth of relationship with the clients.
Lawyers of his team are the best manipulators of words; one should not take it as a criticism rather an assertion. While language is the means of disclosing the facts, expressing ideas, and applying principles; the team always follows such rules to make sure that the legal interest of clients remains free and fresh from any undue hazard. Our corporate lawyer practice has no limit. He has a very big team with the best company lawyer of dhaka Bangladesh. The Lawyers & Jurists is a multinational lawyer in bangladesh. They handled a lots of cases outside of the country.
lawyer in Bangladesh
Advocate A.M. Masum is a top lawyer in Bangladesh. He is a practicing Barrister at the Honourable Supreme Court of Bangladesh. He is also a famous corporate lawyer in Bangladesh with the working experiences of most corporate company and bank of Bangladesh.
Barrister A. M Masum is a lawyer who deals with issues that arise in relation to companies. It includes the formation of companies, agreement drafting for companies, compliance issues in companies, providing Legal Opinion on company matters. The company lawyer in Bangladesh also deals with all disputes and litigation which arise in companies' affairs.
Barristers in Bangladesh are usually hired by solicitors to represent a case in court and only become involved when appearing before a court is needed.
Mr. Masum thinks, striving to learn new things, better a person's life in numerous ways. Ideally, the whole life of a person should be spent striving to learn something new every single day. He has explored various legal arenas and developed expertise in both drafting and litigation of Arbitration, Mediation, Negotiation, Company law, Securities, Industrial, Energy, Employment, Intellectual Properties, Telecommunication, Environment and Civil & Criminal Laws etc.